Roll over image to zoom in
Description
ONKYO Integrated Stereo Amplifier. 50W + 50W High current amplification. Four ohm speaker driving capability. 4 x RCA, 1 x Phono, 1 line level out, 1 x Subwoofer out. Colour - Black
Integrated Stereo Amplifier
Versatile pre-main amp refreshes your music life
Onkyo builds on the success of its A-9010 pre-main amp with the new A-9110 Integrated Stereo Amplifier, a component that refines an original amp design that's won an excellent critical and commercial reputation for dynamic, musical sound. Lively dynamics, deep bass, and layered detail emerge from warm and expressive tuning sure to please European ears. WRAT delivers high-current power stability via large custom capacitors, while low-NFB amps capture the depth and spatiality of analog and hi-res recordings. Five RCA inputs including MM phono stage connect your sources while high-quality speaker-posts reveal Onkyo's hi-fi heritage and careful attention to detail. The A-9110 invites you into each album, the hours passing comfortably in pure analog sound.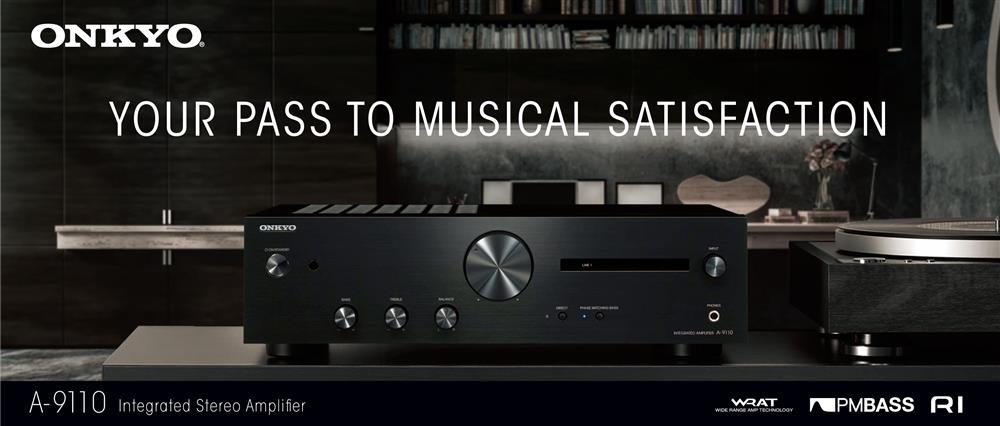 Features:
HIGHLIGHTS

50 W + 50 W high-current amplification

WRAT (Wide Range Amplification Technology)

Direct Mode for source-authentic audio reproduction

Phase Matching Bass Boost

High-current EI transformer, large custom audio capacitors, and discrete output stage
MM phono input, 4 x RCA

New fine display for easy source selection
AMPLIFICATION FEATURES

50 W + 50 W (4 Ω, 20 Hz–20 kHz, 0.9% THD, 2-ch driven, IEC)
WRAT (Wide Range Amplifier Technology)
Customized high-current EI transformer
Two large custom-fabricated audio-grade main capacitors
Optimum Gain Volume Circuitry for clear low-volume playback
4 Ω speaker-driving capability
Phase Matching Bass Boost
Rigid anti-resonant 1.6 mm metal chassis
Direct Mode for source-authentic audio reproduction

CONNECTION FEATURES

4 analog RCA inputs
1 phono input with discrete MM phono equalizer
1 analog RCA line-level output
Subwoofer pre-out
Non-magnetic speaker posts with clear knobs
6.35 mm headphone jack
RI (Remote Interactive) input


ADDITIONAL FEATURES

Fine display shows active input
Independent tone controls for bass and treble with balance control
Easy-to-use controls for smooth operation without a remote
RI (Remote Interactive) input enables connection of a supported component for integrated control with one remote controller
Auto Power Standby
Available in silver or black
Power output
50 W + 50 W (4 Ω, 20 Hz–20 kHz, 0.9%, 2 channels driven, IEC)
Dynamic power
220 W (3 Ω, Front)
190 W (4 Ω, Front)
110 W (8 Ω, Front)
THD+N (Total Harmonic Distortion + Noise)
0.05% (8 Ω, 1 kHz, half power)
Input sensitivity and impedance

Line 200 mV/47 kΩ
Phono MM 4 mV/47 kΩ (IHF-A)

Rated RCA output level and impedance
0.2 V/2.3 kΩ (Line Out)
1 V/ 500 Ω (Subwoofer Pre-Out)
Phono overload
70 mV (MM, 1 kHz, 0.5%)
Frequency response
10 Hz–100 kHz/+1 dB, -3 dB (Direct Mode)
Tone control
±10 dB, 100 Hz (Bass)
±10 dB, 10 kHz (Treble)
Signal-to-noise ratio
103 dB (IHF-A, Line In, Speaker Out)
78 dB (IHF-A, Phono In, Speaker Out)
Speaker impedance
4–16 Ω
Power supply
AC 220–230 V, 50/60 Hz
Power consumption
130 W
Standby power consumption
0.2 W
No-sound power consumption
14.3 W
Dimensions (W x H x D)
435 x 129 x 330 mm
Weight
7.0 kg
 12 months Manufacturer warranty *
* Warranty period is as stated above unless the manufacturer has chosen to specify a longer period.
All warranties are return to base unless otherwise specified.
Payment & Security
Your payment information is processed securely. We do not store credit card details nor have access to your credit card information.